Why Small Businesses Benefit Most from Workflow Automation Software
If you run a small business, you might think workflow automation software is something only big businesses need or use. On the contrary, small businesses can often benefit disproportionately from using workflow software while building online forms and automated workflows. The state of the technology today is such that affordable, easily scalable, workflow software is well within reach of the small business.
Smaller businesses of all stripes benefit from workflow automation.
Smaller businesses can't afford to be bogged down with cumbersome processes and paper. When they can create custom online forms and make them into automated workflows, they save considerable time, and time is money. Here's why smaller businesses benefit greatly from using workflow automation software.
Small Businesses Often Have the Advantage of Agility
Often, one of the biggest advantages the small business has over the larger competitor is that it can change direction more quickly, responding to customer needs faster than a large enterprise can. This agility can be what brings clients to the smaller businesses. Small business agility is enhanced when workflows are streamlined, automated, and adaptable.
Changing a manual form or process can be time-consuming and costly, and it can take time to adjust to and see the benefits. Online forms and workflows, on the other hand, can be modified more quickly, and all workflow users are "on the same page" at every step, so adjusting to revisions is quick.
Less Time on Administering Workflows, More Time on Core Business
Ultimately, the small business that uses workflow automation software spends less of its precious resources on administrative and clerical tasks, allowing more focus on the core business. This can be particularly welcome in the very small business, where each employee or partner is typically required to wear multiple hats and be responsible for multiple types of work. Let automation take care of what it can, and then you can focus your energy and attention on providing your products and services and standing out from the competition.
Turnkey Systems Exist, but Are They the Right Choice?
You'll find that there are many specialized turnkey systems to automate specific workflows. For example, you may explore IT service desk software that automates clunky, manual interactions between IT users and IT help. These have merit, but they do one job and often don't incorporate enough flexibility to be useful in other capacities.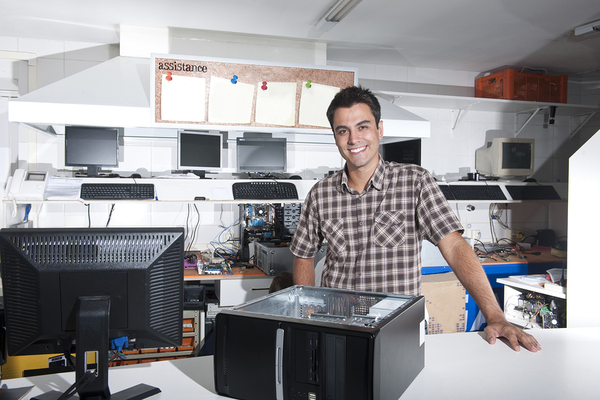 Workflow management software is a broad solution that can be easily adapted to whatever type of forms and workflows you need. You could create one online workflow for IT services, and then just as easily create another for documenting customer service. Your office manager could then create a workflow to ensure no steps are omitted when onboarding a new employee. Same software, multiple uses.
How Small Businesses Benefit from Workflow Automation Software
The main way that small businesses benefit from online forms and workflow automation is through lower costs and improved efficiency. The more operations can be made paperless, the less clutter you have and the lower your error rates. If your workflow automation software is cloud-hosted, you don't have to buy and install servers to run it. You simply subscribe to the number of "seats" you need, and can get started right away.
Don't make the mistake of thinking that, because your small business is non-technical or "bricks and mortar," that you would not benefit from workflow automation. Small businesses of every type, including yours, can benefit from workflow automation software. From dog grooming to translation services, the less time you spend on manual processes, the more time you have to focus on the reason you started your business in the first place.
PerfectForms is workflow automation software that is flexible, scalable, and easy to use – even for non-technical people. With the choice of cloud or on-site hosting, you can put PerfectForms to use in a wide range of applications right from the start. It has an intuitive, user-friendly, drop-and-drag interface that means no programming is required to create online forms, workflows, or to make forms interact with databases, web pages, and other electronic survey forms. It's also mobile-friendly, so if you send out field technicians, they have their online forms and processes with them.
Best of all? You can try out PerfectForms for free. If you run a small business, you have nothing to lose and everything to gain by signing up for a FREE trial and test driving it yourself.
closed